In order for students to practise their oral language skills and engage in higher order thinking, I have gotten them to participate in something called Thursday Thinkers (based on Rebecca Davies' creation that goes by the same name, see here). Rebecca's post got me thinking about how I could support my early years students (Year 2) to develop more complex questions and answers to events and things in our every day lives.
Thursday Thinkers in my classroom is a half hour session with the whole class where students have to come up with their own questions and answers to a particular topic.
Initially when my students were first asked to think about questions they have about a book or video, they would simply use the stock standard 'who, what, where' question stems. However, I soon saw a dramatic change after I used the Harvard Visible Thinking Question Starts  in conjunction with watching a video on Behind the News. I specifically chose videos that had some relevance for my students, for example some of them recently bought a labrador and as a class, we watched the video on Guide Dogs.
After watching the 3-4 minute video, I showed my students the Question Starts:
Why…?
How would it be different if…?
What are the reasons…?
Suppose that…?
What if…?
What if we knew…?
What is the purpose of…?
What would change if…?
I modelled how to come up with a question using the question starts. Students then came up with their own and each session we picked one to answer as a class or in groups. Some of the questions we came up with after watching the guide dogs video were:
What if everyone in the world were blind?
What if there were no guide dogs?
After implementing these thinking sessions over numerous weeks, the students became more independent when asking questions and the increasing complexity of their questions really surprised me. It is also wonderful to see how they are starting to apply this way of questioning to other parts of the curriculum. I am now keen to try some other visible thinking routines to use with my students such as Tug of War in preparation for their persuasive writing.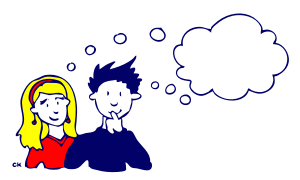 Photo credit: Woof via openclipart.org

Have you used any other visible thinking tools? How have you developed your students' thinking?